Gail Small champions joy! Her books and presentations provide valuable insight on the power of choice to guide joyful living.
Gail Small is an innovative and highly respected educator. She is a Fulbright Memorial Scholar, author of six books, People to People Ambassador, and a dynamic keynote speaker.
Ms. Small's passion to help others reach their full potential led her to write her first book, Joyful Learning: No One Ever Wants to Go to Recess!
Gail's dedication in giving back and making a difference led to her new book, Joyful Volunteering.



After sharing about Choices and Joyful Living, Gail having fun at lunch with students in Japan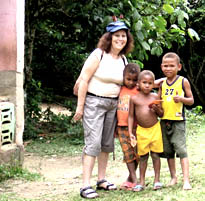 After giving a speech, Gail got a little lost in the lush Dominican Republic countryside. Local village children guided Gail to the correct path